About Lesson
Wondershare filmora is a professional video editing software that we can use for professional videos. We can edit videos with high rendering qualities in a different format. We will discuss this software in detail in this course.
We will use all features involved in the video editing training course. Best of luck.
Click here to download wondershare filmora latest.
You can all alternatives software for this reason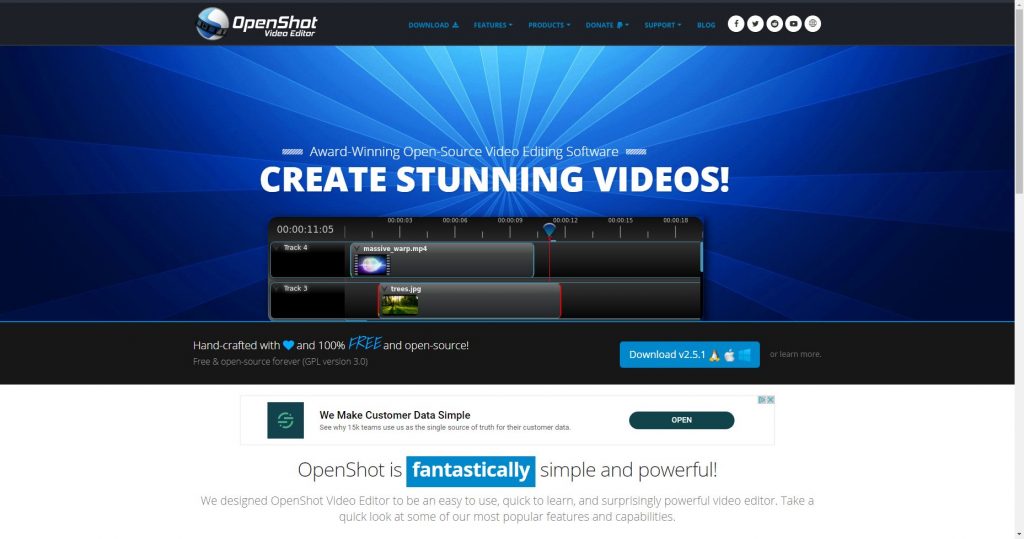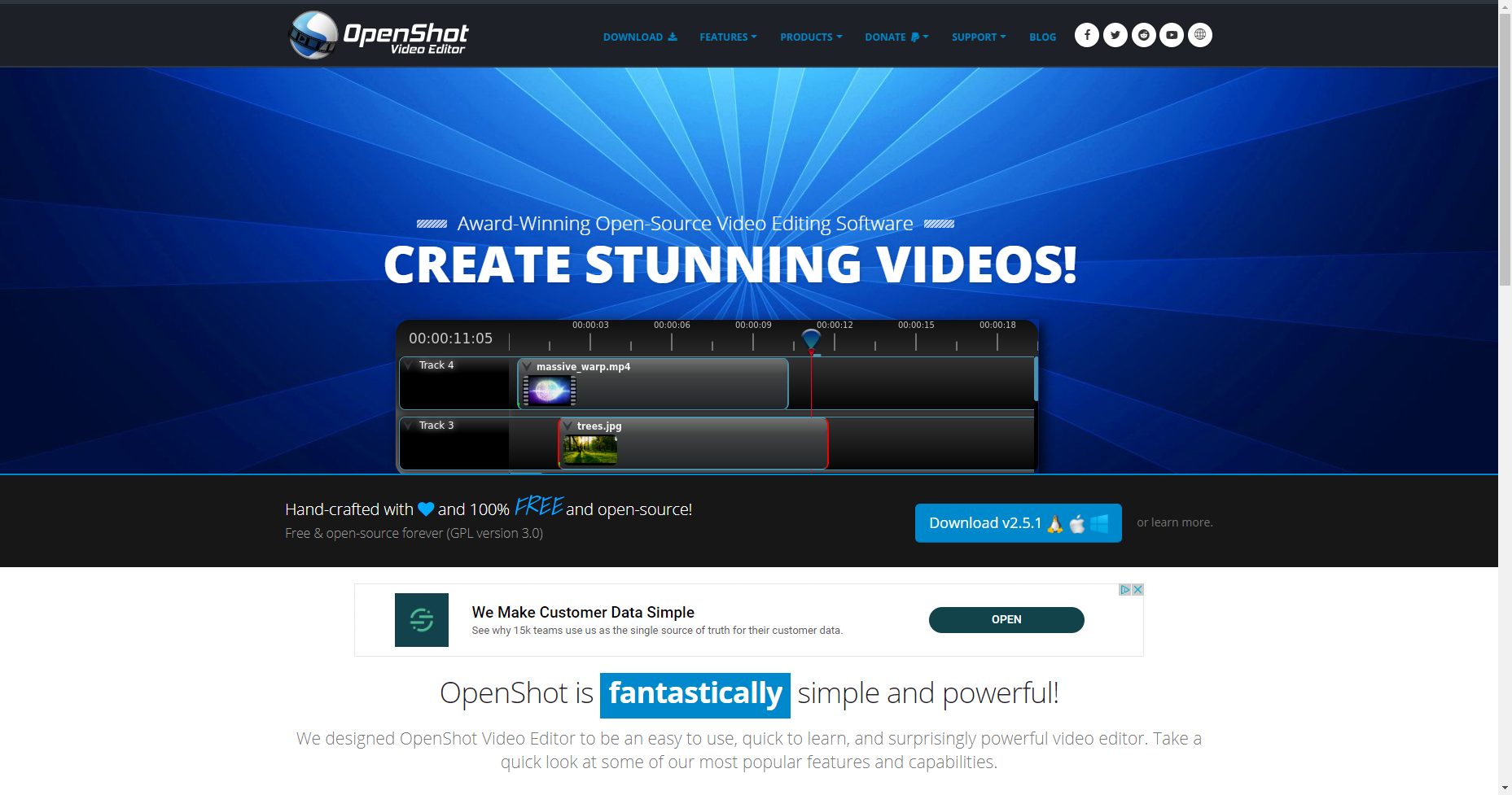 Platforms: Windows, Mac, and Linux
OpenShot has an easy-to-use interface that's great for beginners. It doesn't have a huge array of editing features, but it's a solid option for beginners to use for basic editing. OpenShot is useful for resizing, trimming, scaling, snapping, and rotation. In addition, you'll find features like scrolling credits, time mapping, audio editing, frame stepping, and real-time preview.
Key Features:
Drag-and-drop functionality
Video effects like brightness, gamma, greyscale, hue, and greenscreen
Unlimited layers for audio tracks, background videos, and watermarks
Customizable title cards
Keyframe animation capabilities
---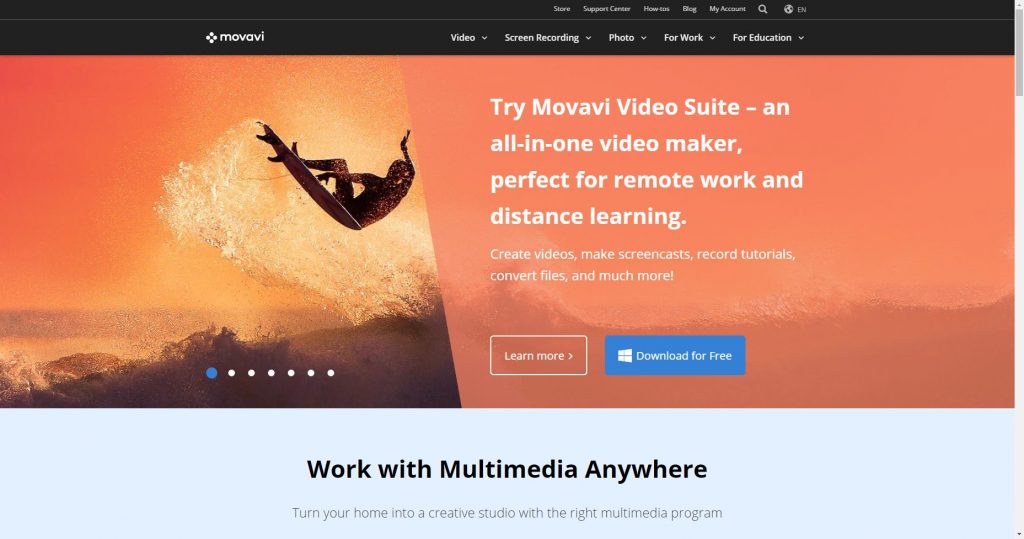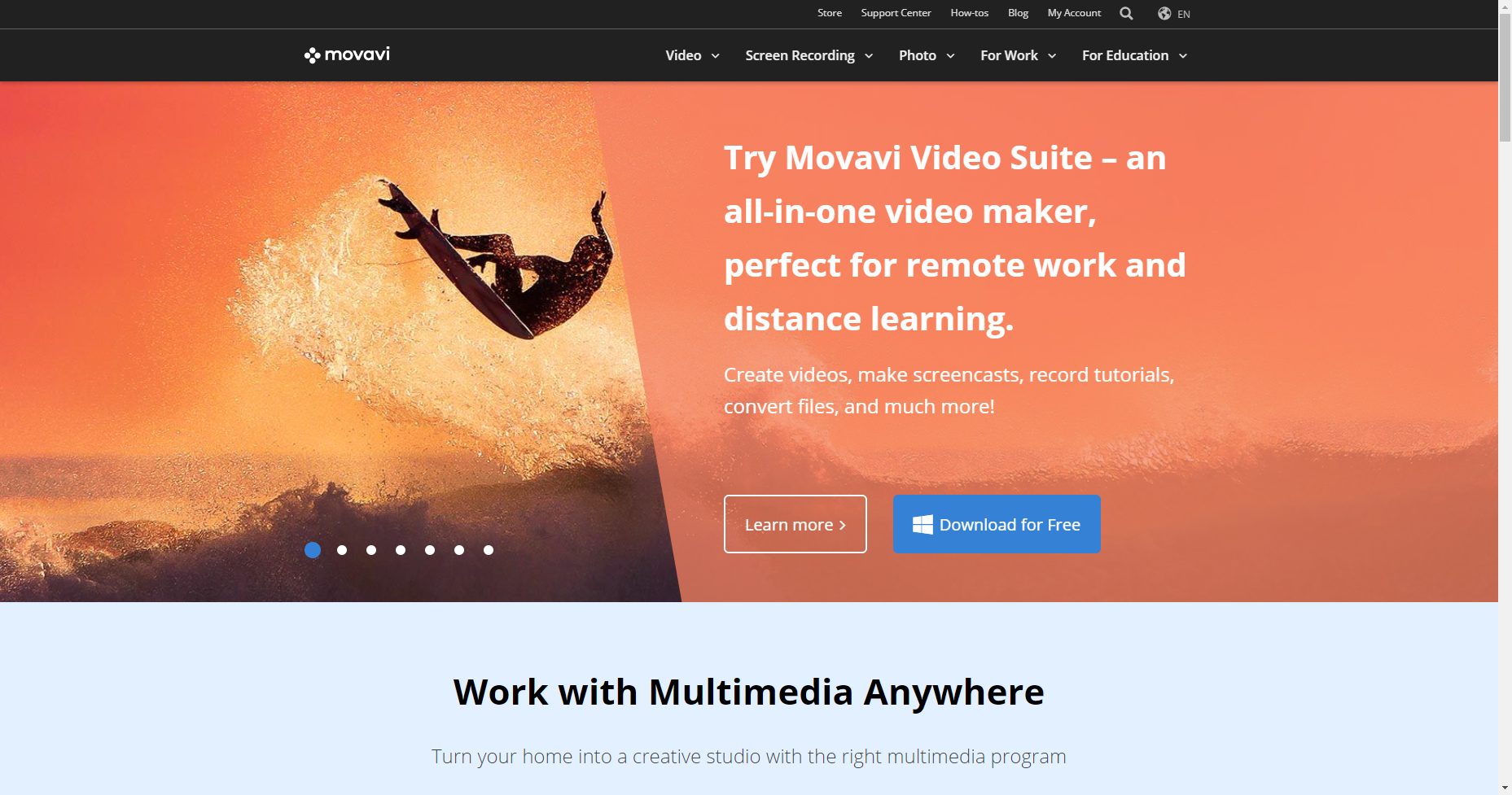 Platforms: Windows, Mac
Movavi is a great video editing software for beginners. It includes drag-and-drop controls, audio editing, transitions, filters, and you can export to popular video formats or share directly from the software. Movavi also gives users the ability to cut and splice videos, create customized titles, and sync sound to images.
Key Features:
Drag-and-drop functionality
Built-in intros, videos, backgrounds, music, sounds
Filters, transitions, and titles
Keyframe animation of titles, overlay video, stickers, and more
---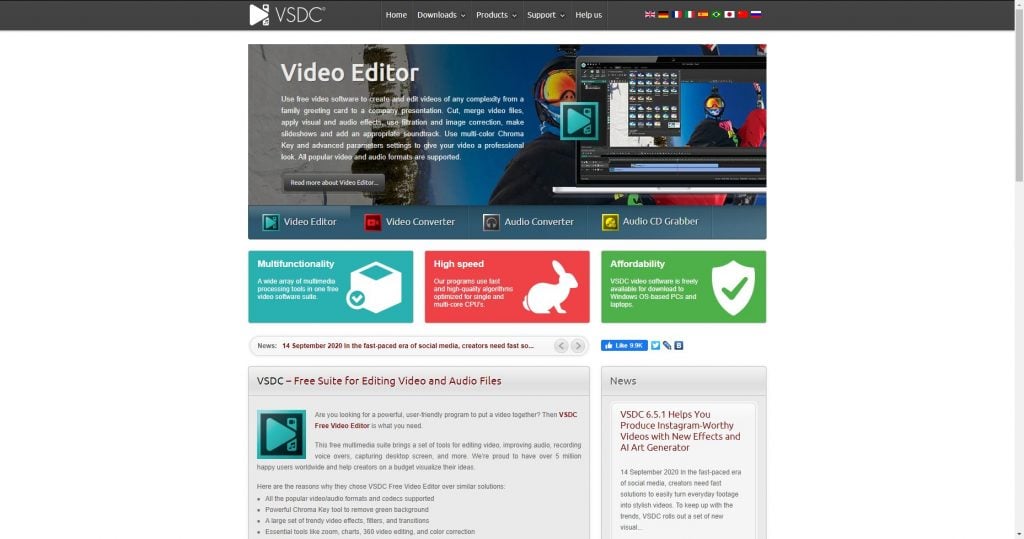 Platforms: Windows
VSDC is a video editing software that can be used to create a movie of any length and complexity. You can use VSDC to process image and video transformations with subpixel resolution and use 10+ mask types to hide, blur, or highlight elements in your video.
Key Features:
4K and HD export
Video stabilization tool
YouTube uploader
3D templates
Blending modes and Instagram-like filters
Color-correction tools
---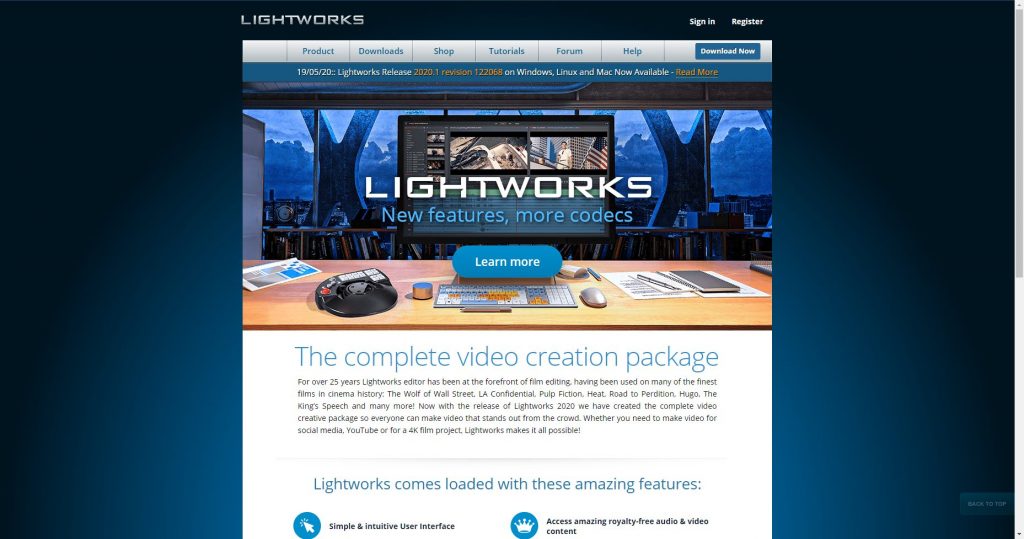 Platforms: Windows, Mac, Linux
Lightworks is one of the best YouTube video editing software for beginners. Even the free version includes everything you need to create professional-grade videos in HD and SD formats. It has a simple, intuitive, and easy-to-use interface and includes a collection of video tutorials to help beginners create amazing videos right from the start.
Key Features:
Supports a wide range of video formats
Speed optimization
High-quality trim functions
Multicam editing
Real-time team project sharing with full control over editing access for each user
Easy sharing of videos to YouTube, Vimeo, Facebook, and Instagram
---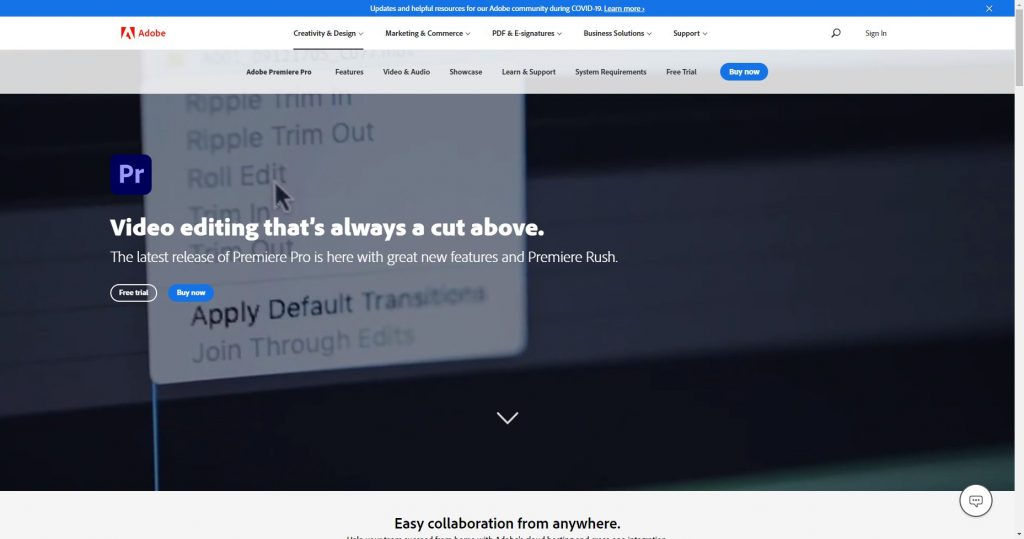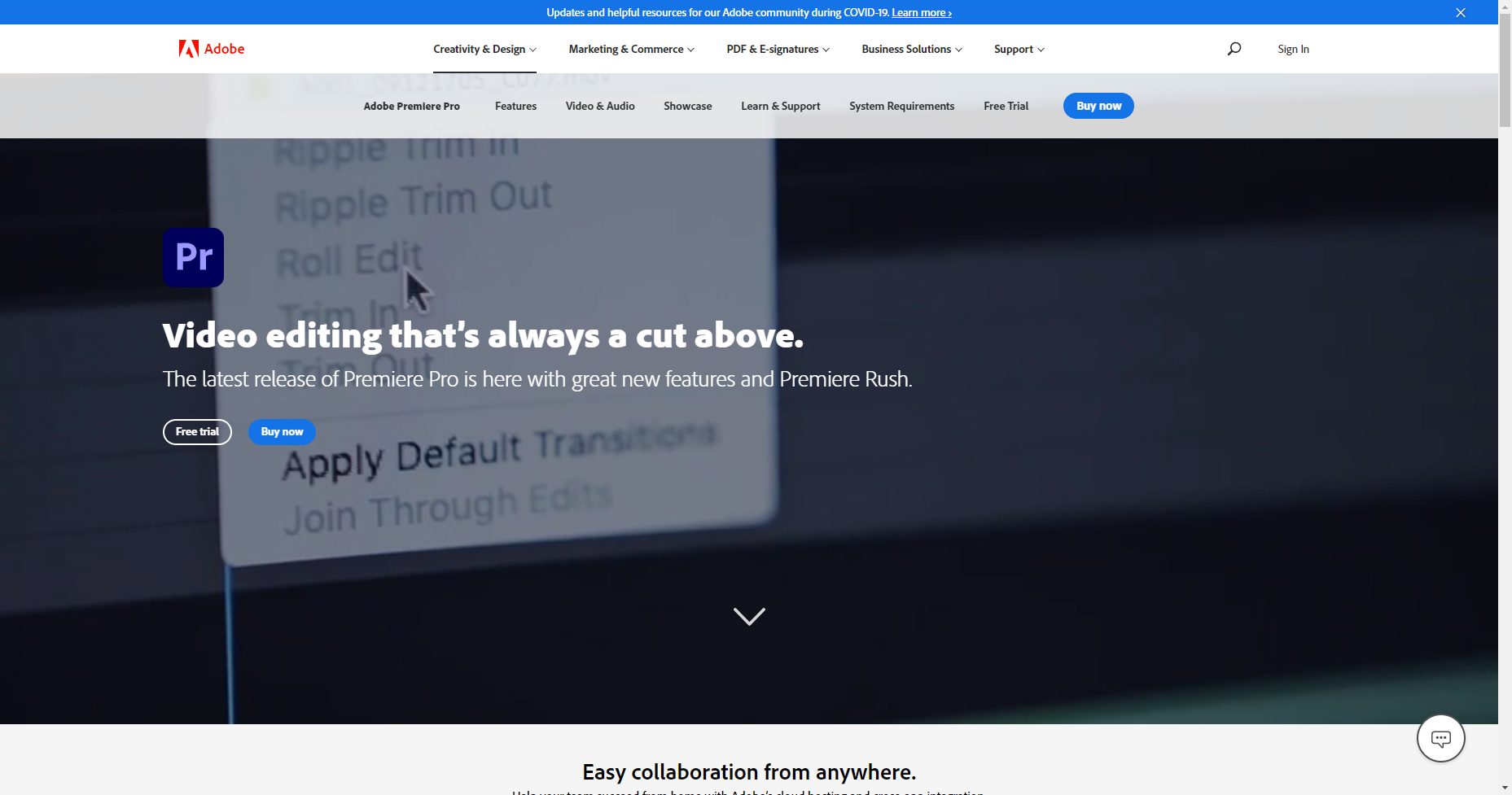 Platforms: Windows, Mac
Adobe Premiere Pro is the choice for most video professionals but it also has a user-friendly interface making it the perfect choice for beginners. You can edit videos for color grade, adjust video sound, and import graphics and special effects from other Adobe apps.
Key Features:
Import footage from any file format
Trim footage with precision
Add animation and video effects
Manage your audio editing and sound effects
Adjust colors and white balance
---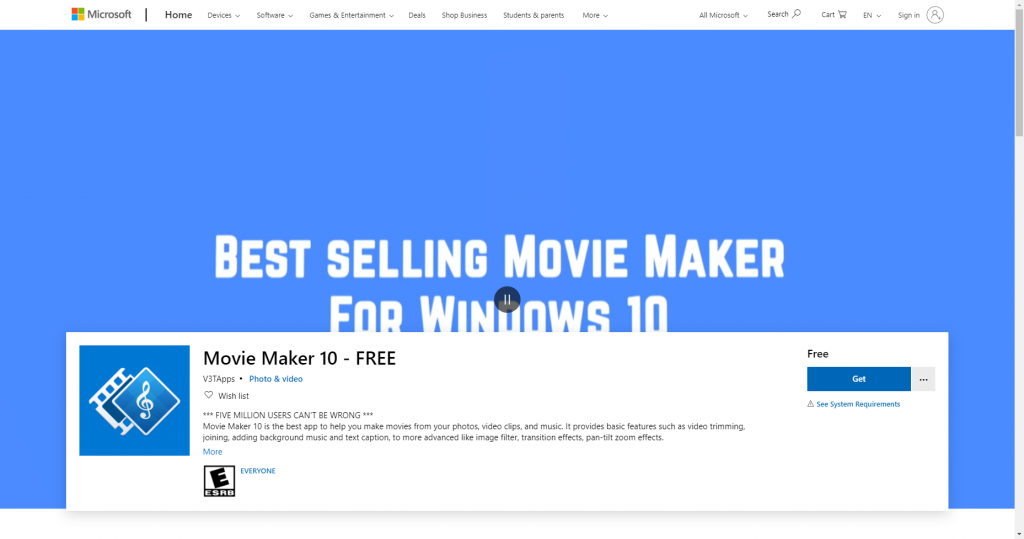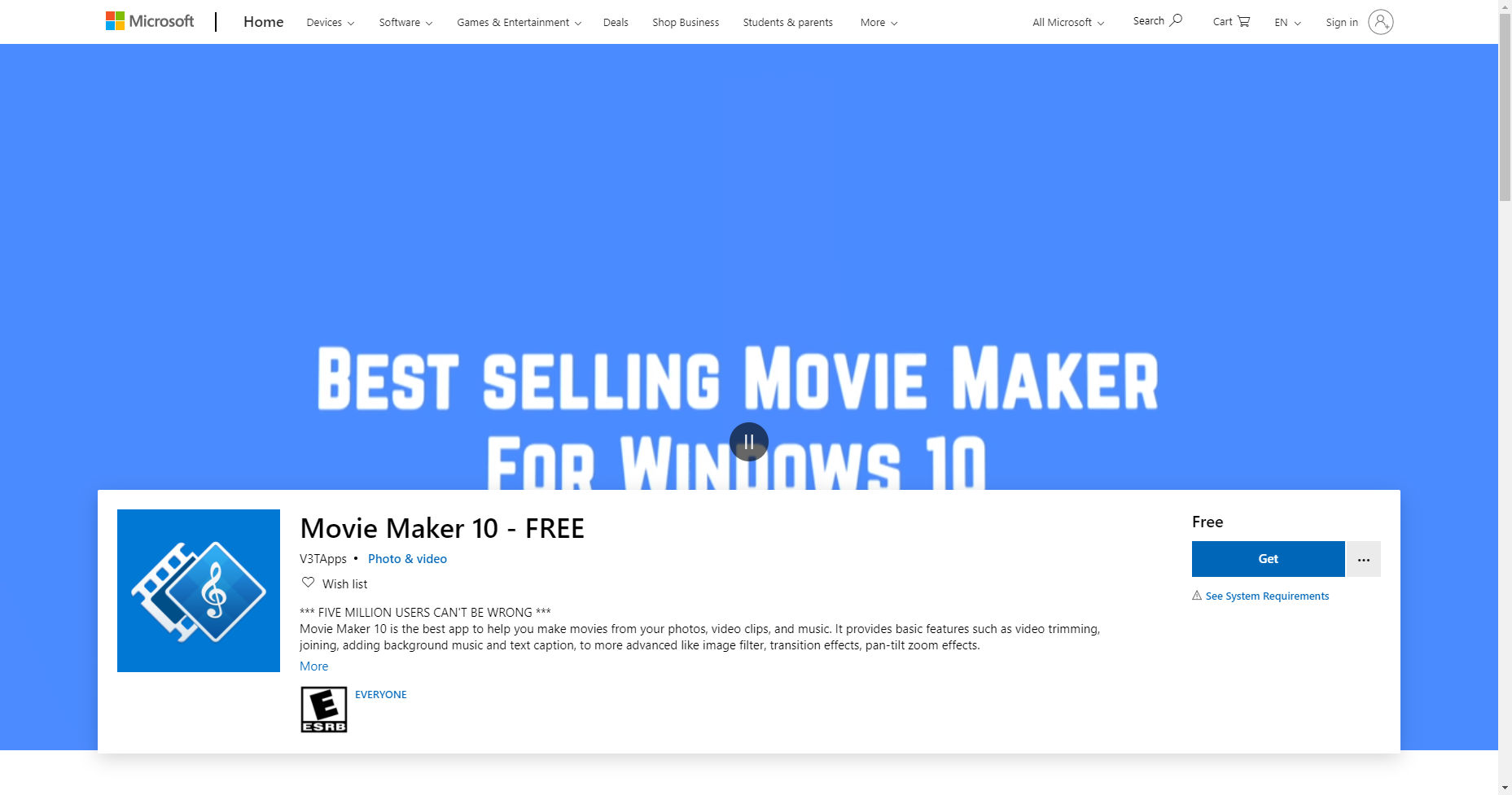 Platforms: Windows
Movie Maker 10 is a great video editing software for beginners or those who need a simple tool to make quick edits to short videos. It offers basic functions like video joining, adding background music, and text caption as well as more advanced features like image filter, transition effects, pan-tilt-zoom effects.
Key Features:
Make movies from video clips and photos
Trim, rotate, join video clips
Add and edit background music
Support most popular media formats
Overlay text captions, emoticon, still PIP, sound clips on video clips
---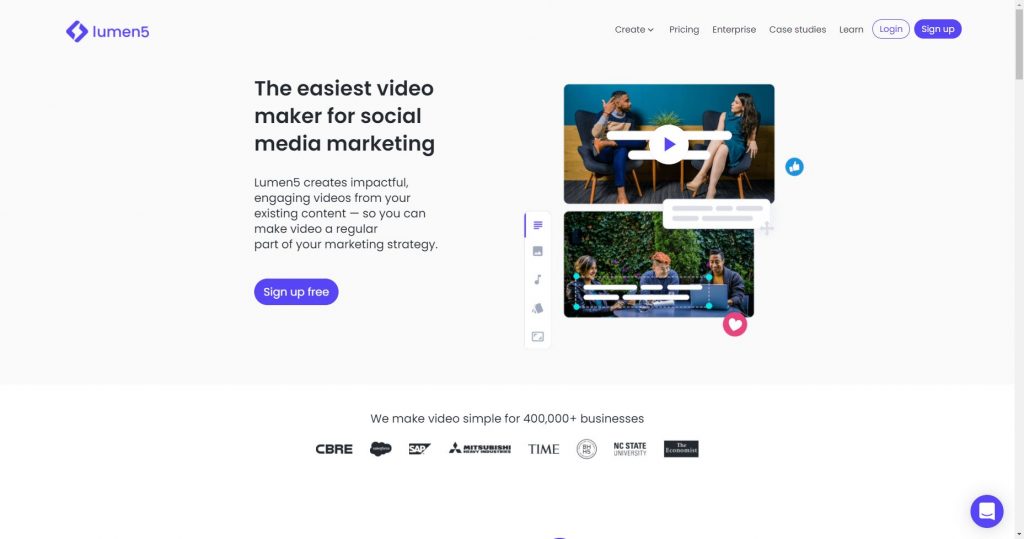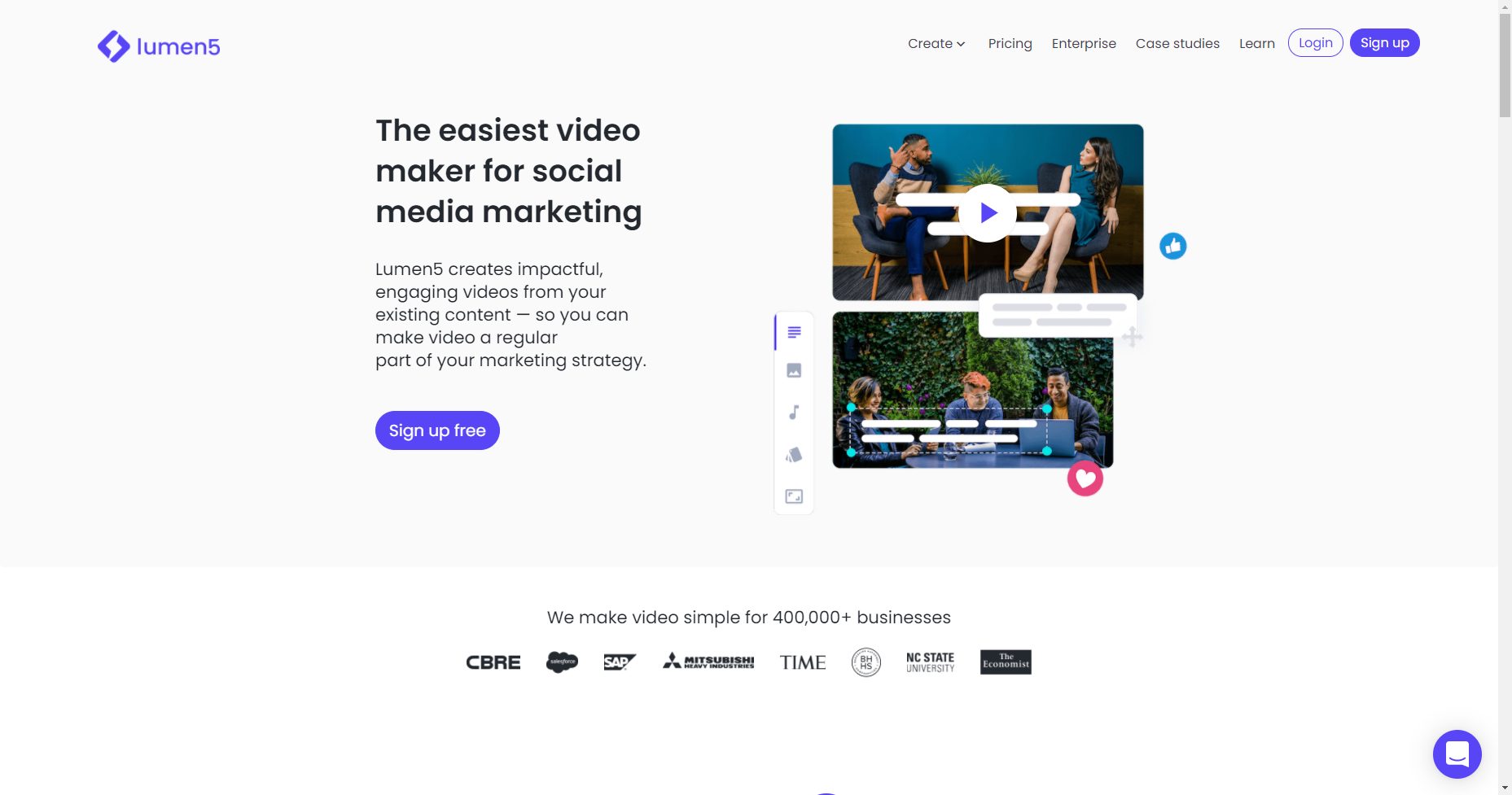 Platforms: Online
Lumen5 is a nice option for beginners looking for an easy-to-use video editing software. Using artificial intelligence, Lumen5 can even turn text into a video. You simply copy and paste your text into Lumen5 and let the software build your video! Lumen5 includes branding features like watermarks and logos, free audio, and font sizing choices.
Key Features:
Artificial intelligence to create videos quickly and easily
Searchable library with millions of free media files
Customize your videos to match the look and feel of your brand
Optimize every video to improve performance and conversion rates
---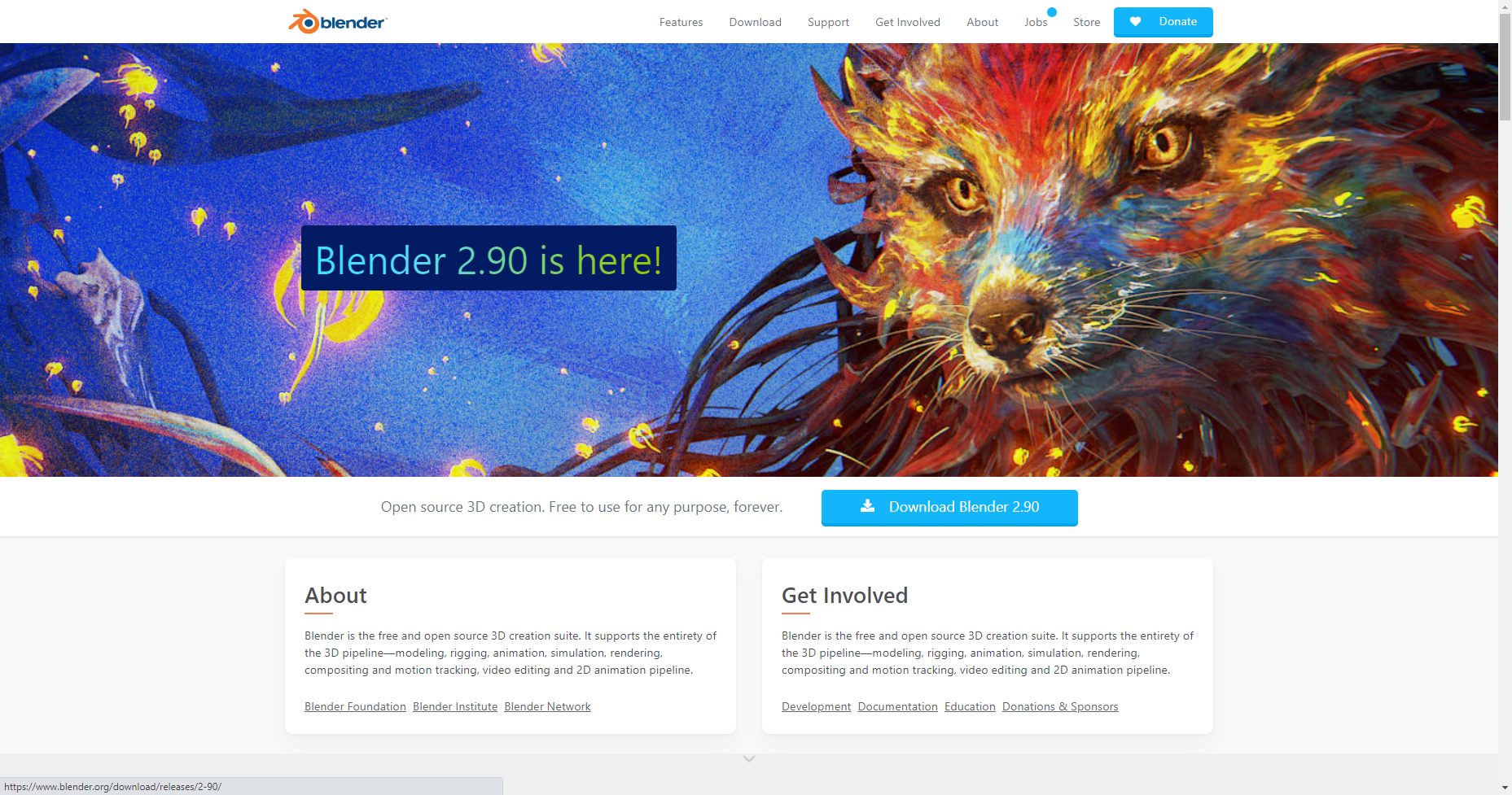 Platforms: Windows, Mac, Linux
Blender is a free, open-source 3D animation suite that includes a functional video editor that will meet the needs of most users. In addition to features that help model and render 3D animations, Blender also offers features like video masking, cuts and splicing, color grading, and more.
Key Features:
Live preview, luma waveform, chroma vectorscope, and histogram displays
Audio mixing, syncing, scrubbing, and waveform visualization
Up to 32 slots for adding video, images, audio, scenes, masks, and effects
Speed control, adjustment layers, transitions, keyframes, filters, and more
---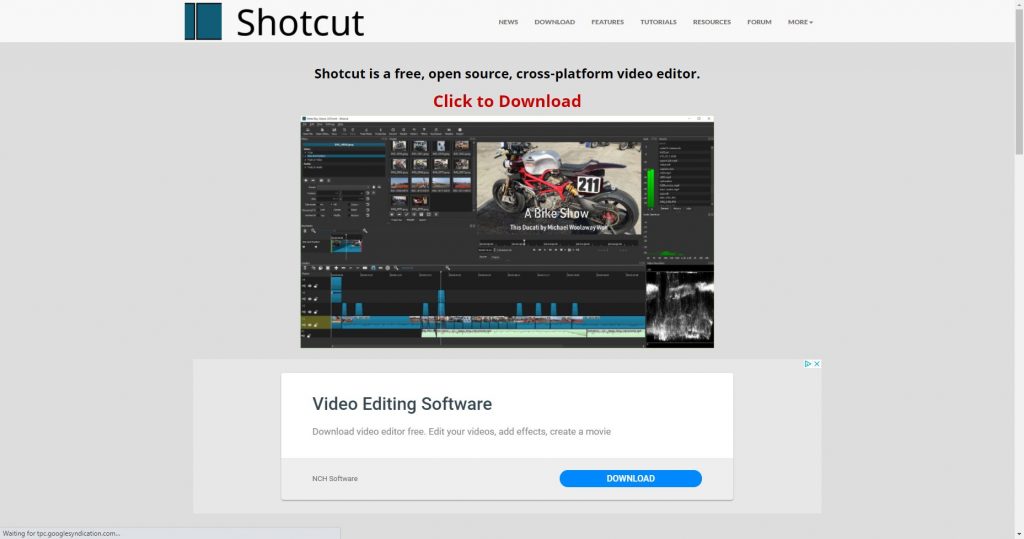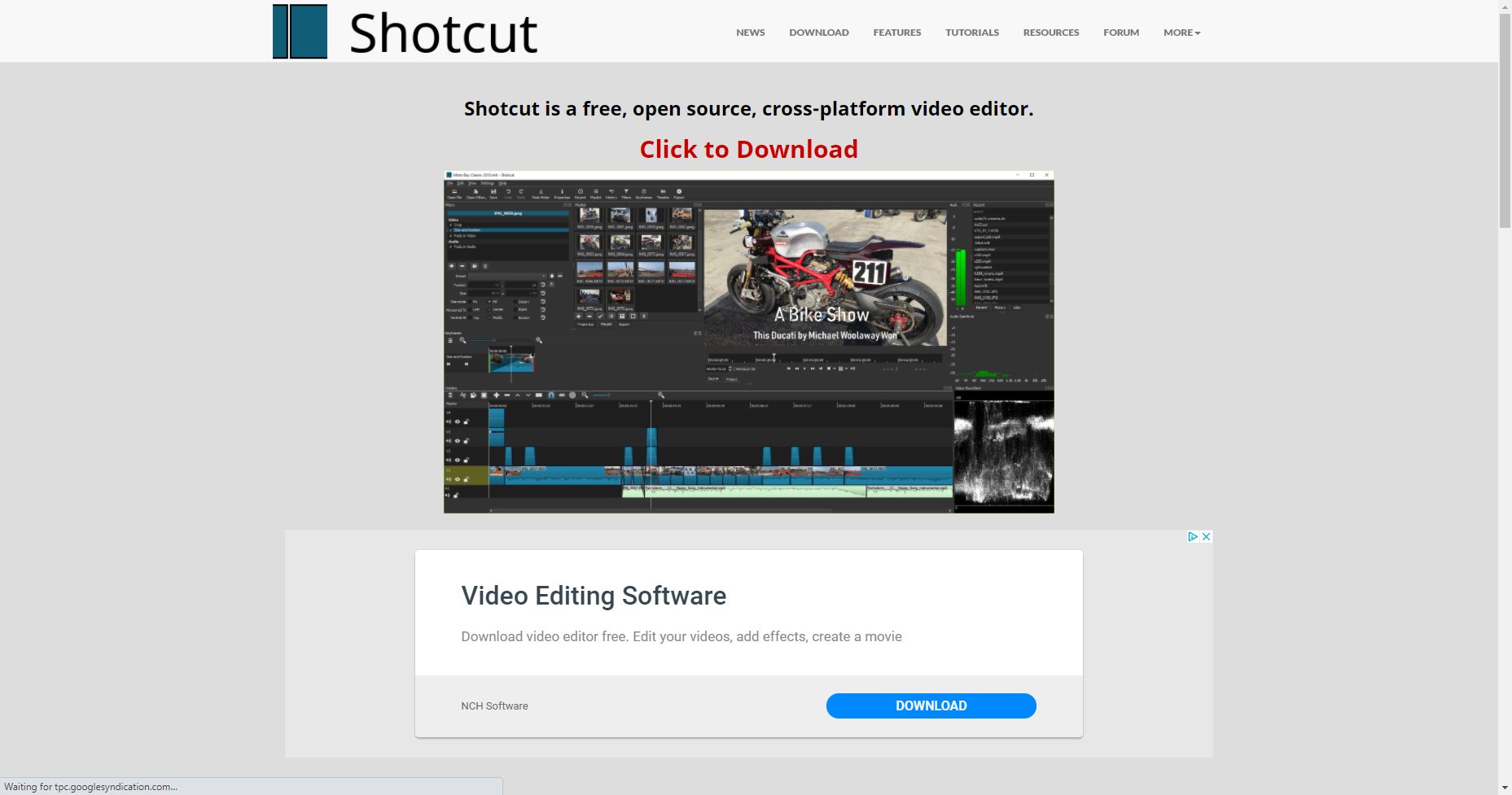 Platforms: Windows, Mac, Linux
Shotcut is another open-source video editing software for beginners that includes a ton of tutorials to help you get started. Shotcut supports a broad range of formats with extensive audio editing options, tons of video effects, a vast array of video editing features, and more.
Key Features:
Support for the latest audio and video formats
Native timeline editing (no import needed)
Multi-format timeline so you can mix and match resolutions and frame-rates within a project
Advanced audio filters
---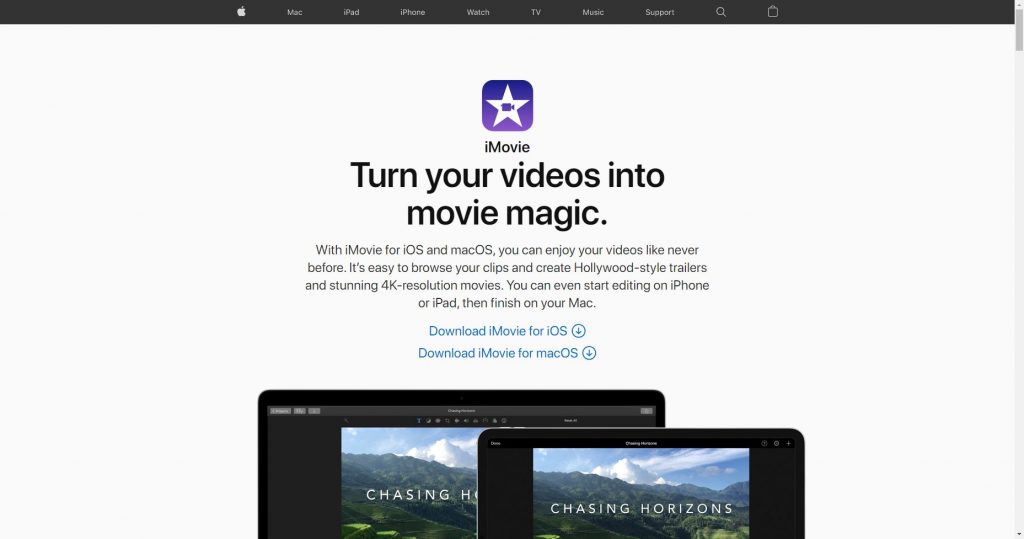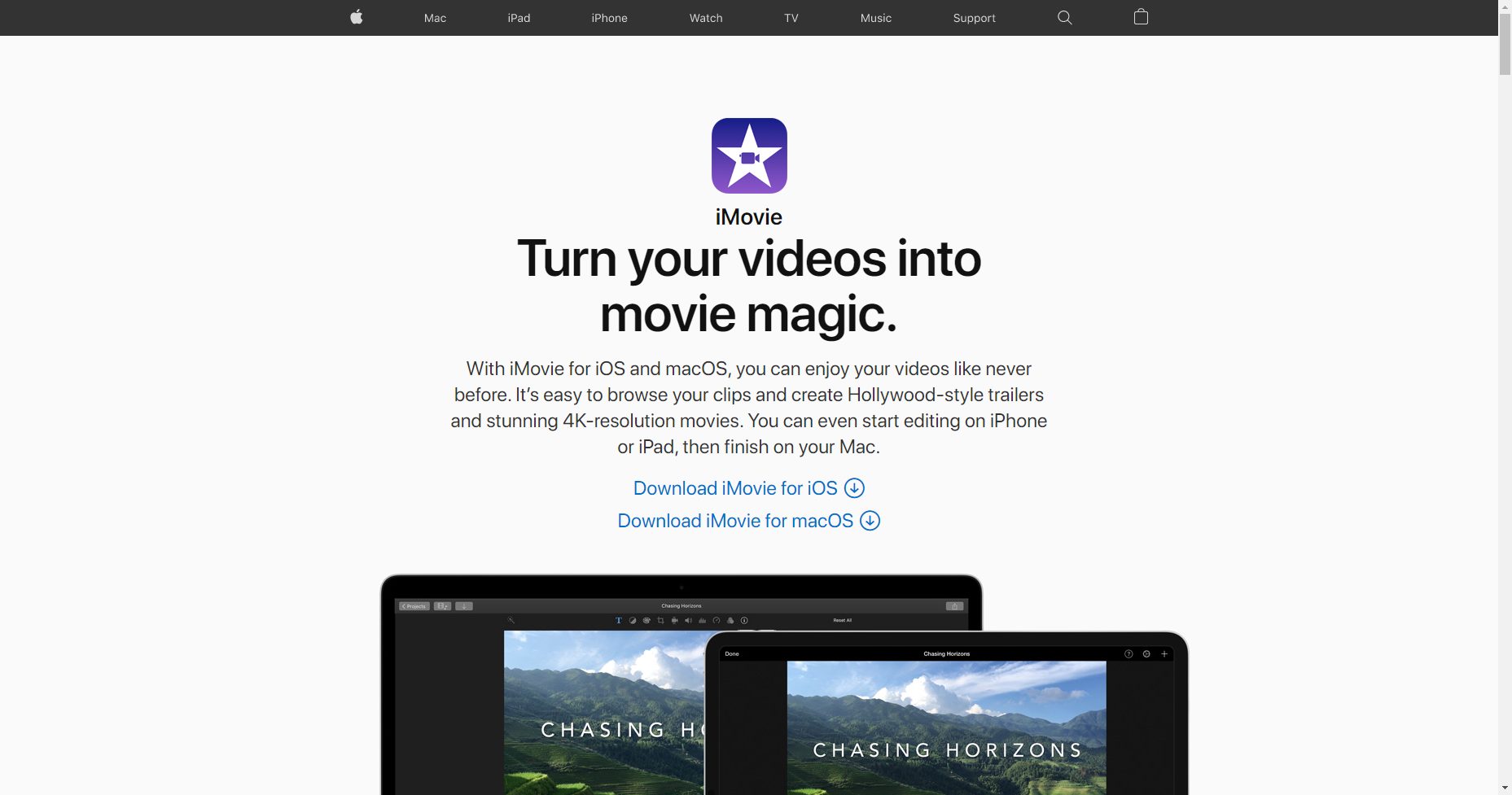 Platforms: Mac
If you're a Mac user, you've probably heard of iMovie. This app offers a simple, drag-and-drop interface as well as powerful video editing tools that make it a breeze to add titles, music, and effects. iMovie lets you choose from dozens of styles to add animated titles and credits to your movie, as well as an array of special effects, filters, and sounds.
Key Features:
Support for 4K resolution
Cloud-storage functionality
Dozens of studio-quality title animations
Stylish, contemporary video filters
Built-in music, sound effects, and voiceover recording
Speed controls
---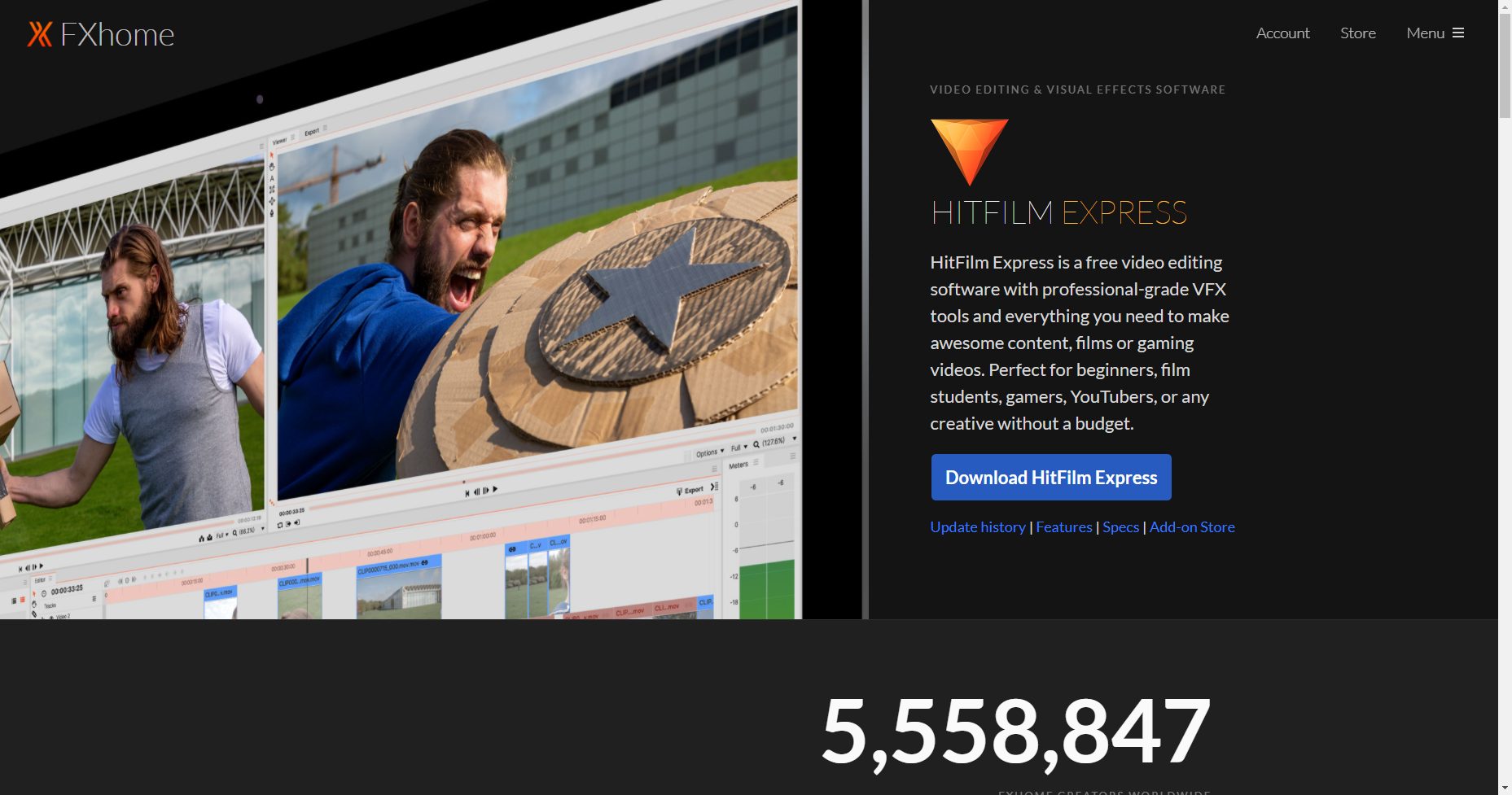 Platforms: Windows, Mac
HitFilm Express is more of an advanced-beginner video editing software but it's worth the time it takes to learn the software. This tool is used to produce Hollywood-level films, after all. And, even the free version is more than enough for most video editing beginners. With HitFilm, you'll get access to an enormous array of video editing tools like composite shot enhancement, picture-in-picture, behavior effects, and a lot more.
Key Features:
Professional-grade video editing
Composite shot enhancements (animate two separate shots together for unreal video effects)
Unlimited video and audio timeline-track creation
An adaptive trimmer
Audio mixer
Transition options like push, zoom, and dissolve
---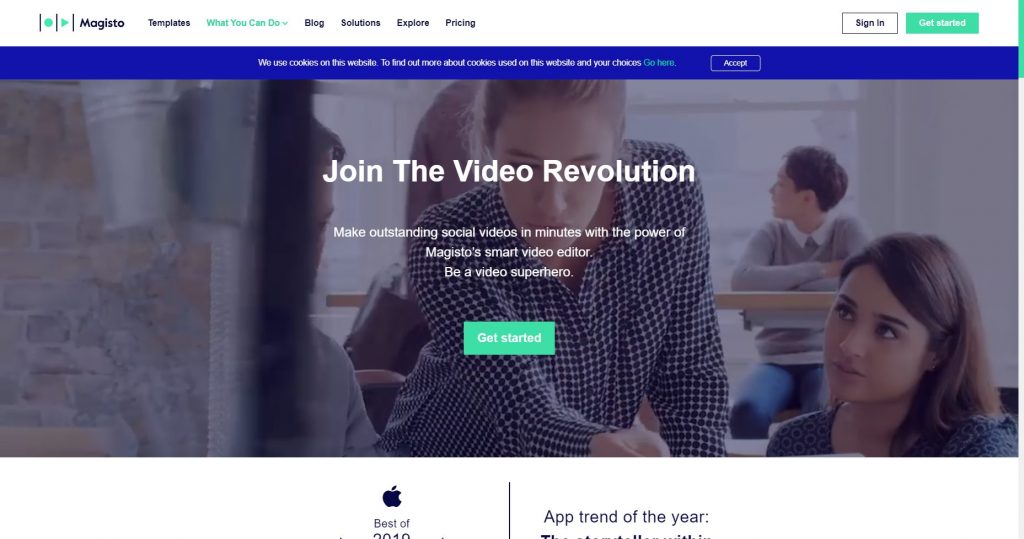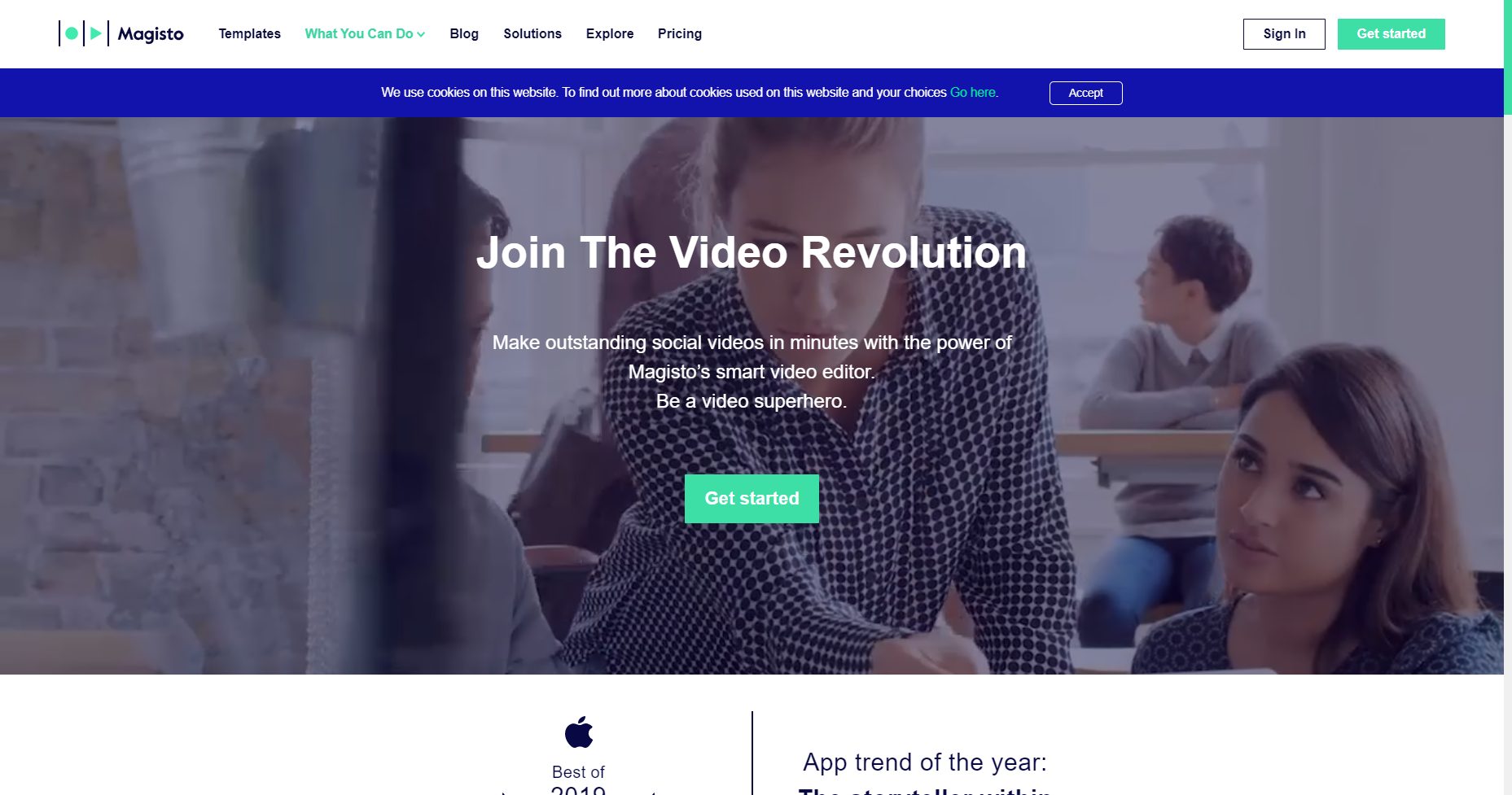 Platforms: Android, iOS
Magisto is a video editing software for beginners using mobile devices to edit video. It uses artificial intelligence to create video content fast. You simply choose your editing style, add your footage, and pick the music you want. Magisto will then edit and create your video as well as make music suggestions to match. It's an incredible software that's useful for streamlining to the creation process. Plus, the app lets you know how many people have watched your video from the built-in insights dashboard.
Key Features:
Wide range of themes
iStock integration for high-quality stock images
Facial recognition, filters, effects, and auto-cropping
Professional auto-editing ability
Share videos across marketing channels
Unlimited HD movie downloads
---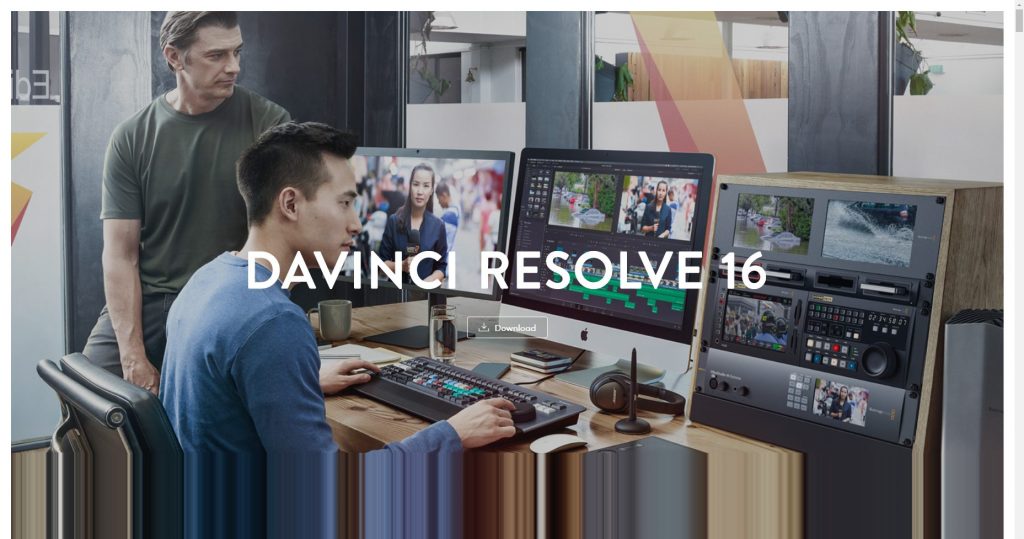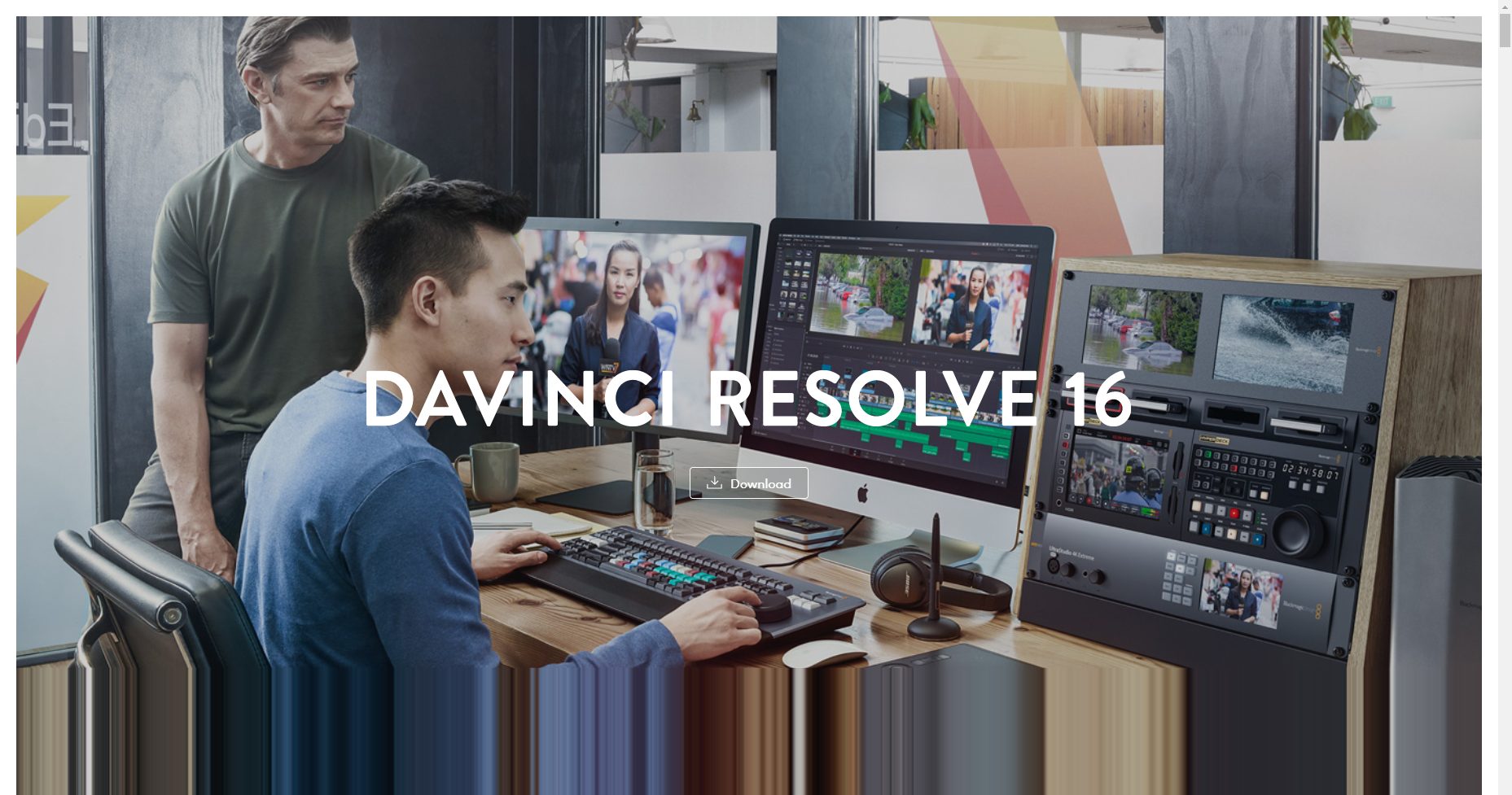 Platforms: Windows, Mac, Linux
DaVinci Resolve is a video editing software for beginners that uses 8K editing, visual effects, color correction, and audio, making it the choice for many professional users. You can use DaVinci both offline and online and the free version of the software is probably all you'll need if you're just getting started. DaVinci Resolve offers custom timeline settings, adjustment clips, facial recognition, speed warp retiming, image stabilization, audio scrubbing, and a lot more.
Key Features:
High-quality motion estimation speed changes and frame rate conversions to easily and realistically speed up or slow-down clips
Dual timeline for quick navigation, cutting, and trimming
Facial recognition that detects faces in your clips and automatically creates bins based on the people in each shot
The dedicated trim interface that gives you the ability to edit in minute detail
Built-in tools for picture-in-picture effects, retiming, stabilization, dynamic zoom, text, and audio
Intelligent auto-editing that syncs audio and visual clips for you
---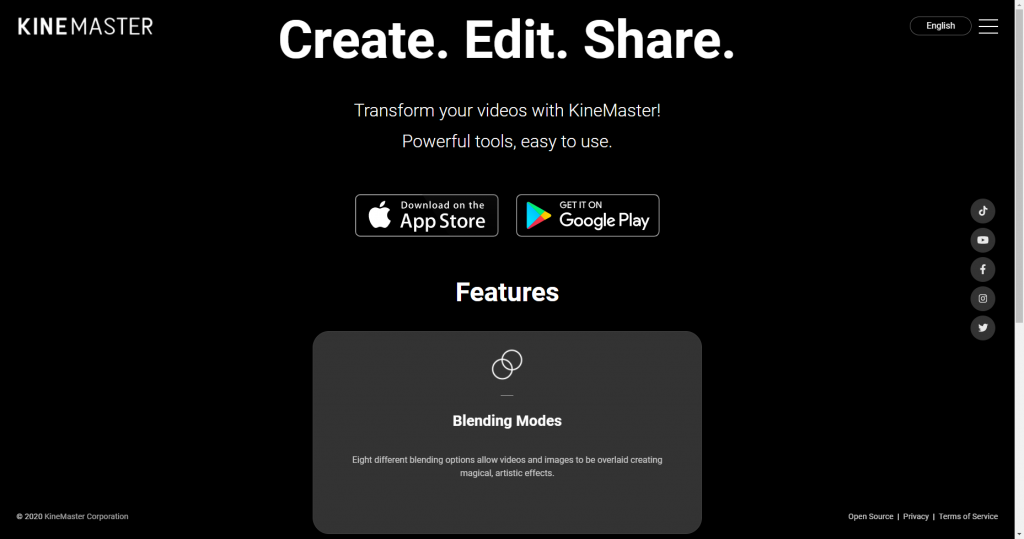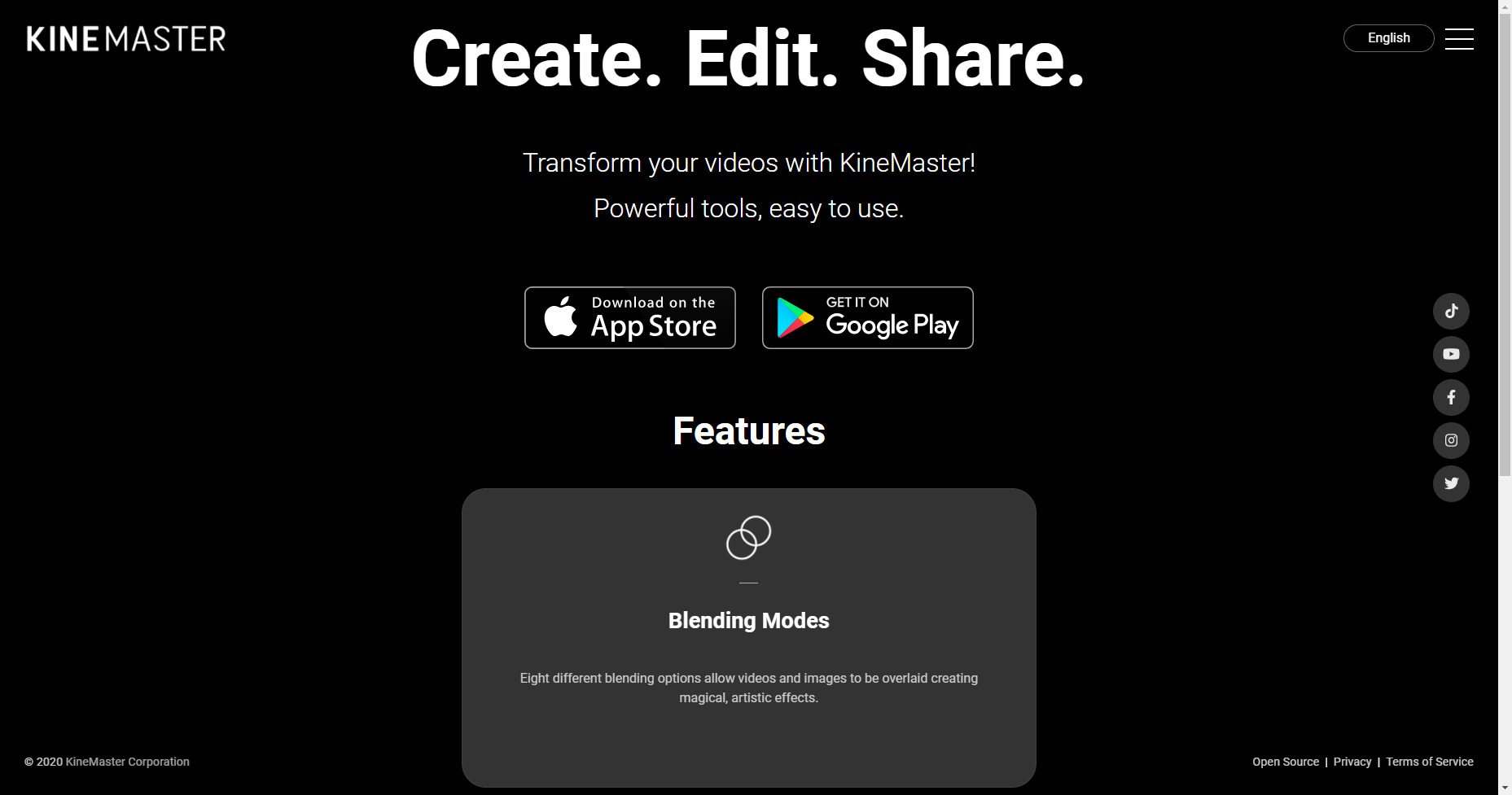 Platforms: Android, iOS
KineMaster is a full-featured video editor for Android and iOS with easy-to-use tools like voiceovers, blending modes, speed control, video reverse, green screen (chroma key), and more. With KineMaster, you can even do frame-by-frame editing to fine-tune your video. It's a free video editing software for beginners that will lend an air of professionalism to your video projects.
Key Features:
Multiple layers of video, images, stickers, special effects, text, and handwriting
Add voice-overs, background music, voice changers, and sound effects
Edit and export 4K 60 FPS video
Keyframe animation tool for adding motion to layers
Instant preview
---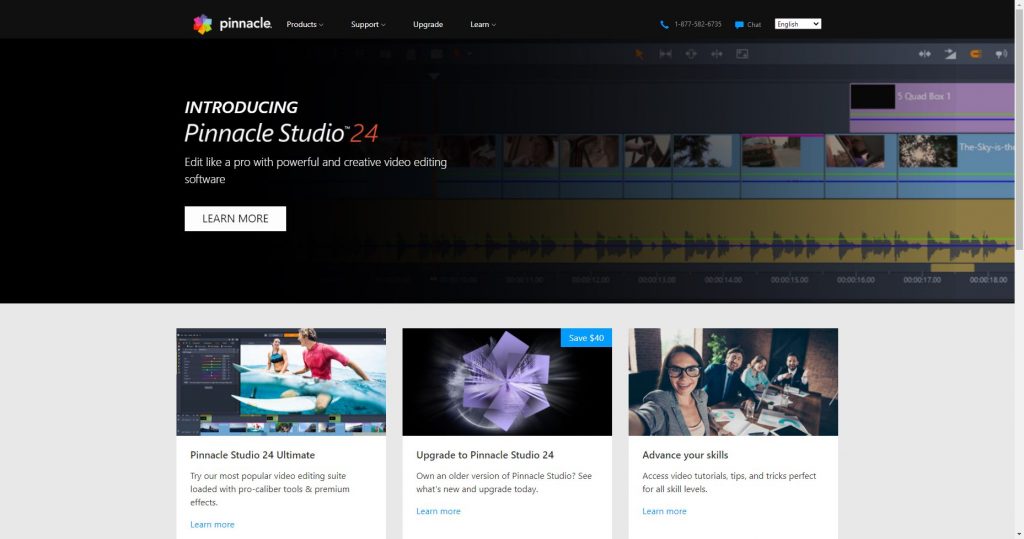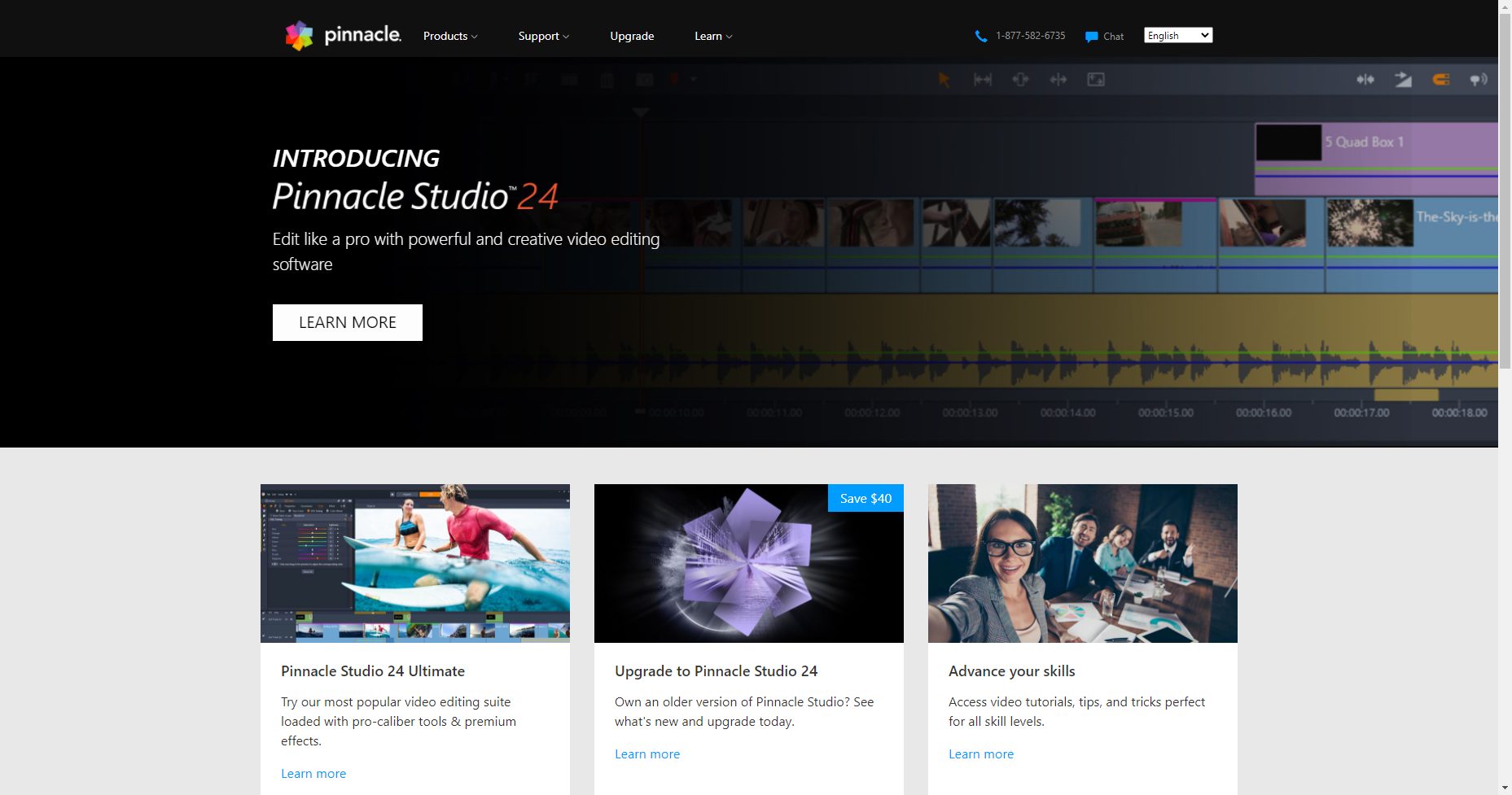 Platforms: Windows
Pinnacle Studio video editor is great for beginners and professionals. It offers advanced keyframing so you can fine-tune every second of your clips, transitions, and effects. Pinnacle includes creative effects and professional-level tools that you can use to build creative videos. With Pinnacle, you can also edit both small and large video projects quickly and easily using customizable shortcuts and workflows.
Key Features:
Trim, split, crop, and rotate videos
Wide range of templates, filters, and effects
Add titles, graphics, and overlays
Explore Seamless Transitions, Paint Effects, Video Masking, Color Grading, and more (Pinnacle Studio Ultimate)